Improve Upon Your HVAC Service By Following These Tips
Living in Los Angeles has plenty of perks. For example, you don't have to deal with snow or extreme temperatures at any point of the year. Sure, there is heat in the summer, but that seaside breeze keeps the area cool most of the time. That breeze won't help you at home, though, where you will need some assistance. That's what your air conditioner is for. If you want to make sure that your HVAC service is always optimal, here's what you need to keep in mind.
Install a Smart Thermostat
What are the worst offenders when it comes to sabotaging the performance of your air conditioning unit? On one hand, precision. After all, how often could you swear that your thermostat's temperature reading is lying to you? Probably a lot of the time. The best way to ensure precision and accuracy with your thermostat is to get a smart one. These wonderful new toys will make your use of HVAC service much easier than it's ever been. They can provide more exact temperature readings, more accurately control the general system, and schedule temperature changes accordingly. A smart thermostat will help reduce the costs of your air conditioning and make it run much more efficiently.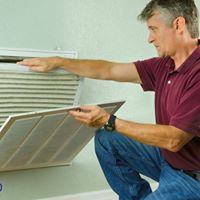 Regulate AC Use
Summer in Los Angeles is always a lot. The sun, the heat, it's all great… if you're at the beach. When you're home, it can actually be too much to deal with. That's why we have an air conditioner, right? To make sure we can live comfortably in our own home during the sweltering heat of summer, we need air conditioning to keep the temperature nice and cool throughout. However, too much climate control and things can get complicated. Energy bills can go up and the air conditioning unit can strain itself. The best way to make sure you maintain a comfortable temperature, low energy bills, and an efficient unit is to regulate its use. Maybe turn it off at night or when you're not at home to allow the unit to rest.
Provide Proper Maintenance
Now, just like you get maintenance for a vehicle or an appliance, sometimes you might need to get maintenance for your air conditioner unit. These are designed to last for a long time, but they are also reasonably delicate pieces of equipment. Extended hours of use can weigh on a unit to the point where it might stop working way ahead of its intended lifespan. The best thing to do to make sure that your unit lasts for as long as it's supposed to is to invest in proper maintenance every once in a while. If your unit undergoes a lot of use, then annual or semiannual HVAC service maintenance can go a long way.
HVAC Service in Los Angeles
By following these tips, you can maintain and further expand the life of your air conditioning unit, but they're not going to be of much use when your unit is already down. If you need HVAC service or AC repair in Los Angeles, we at American Clean Air & Heating are here to help. Just give us a call at (818) 722-8634 and we'll be right there to help.