Be Prepared for an El Nino Winter – Fix Your Home Heating System
All of the experts are making their predictions regarding the weather patterns for the coming winter and they all seem to agree on one thing – El Nino is going to occur this year and it could be quite severe. The weather patterns all indicate that El Niño could be particularly harsh this year, meaning there could be record-setting rains that occur in the western part of the United States. Along with all of the rains means you are likely to experience cooler temperatures as well, putting you in the position where you may need to rely more on your heating system than you might in normal years. Now is a good time to start getting yourself ready and for the El Nino winter and fix your home heating system.
The Best Time to Act is Now
You may think that everything seems to be running well for your heating system at home and you do not need to have any type of work done, but now may actually be the best time for you to step up and get your system checked. Having regular inspections and maintenance performed on your heating and cooling system is what is going to help to ensure that it runs well all of the time, particularly during times to come when you may need it the most. Neglecting to do anything with your system now may lead to problems if you end up having to use your system a lot and it has not been properly maintained, leading to a potential breakdown and perhaps very expensive repairs.
What You Can Do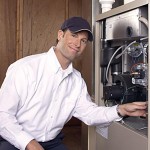 The right step for you to take at this point is to have your system inspected but a professional service company. You can have expert service technicians come in to look over and examine your furnace and entire heating system to make sure it is running at its top efficiency levels. The technician will be able to detect if there are any leaks or problem areas, maintain the system and replace any worn parts, change filters as they are needed and more so that you have a heating system that works well.
Taking the time now to make sure you have a reliable heating system can save you from much bigger problems as the winter comes along. Get yourself prepared and have your system maintained today so you can be sure your home heating system is working well all winter long.