Worrying about the Cost of Air Condition Repair in San Gabriel?
Any time anything in your house goes wrong you feel stress and anxiety. From a leaky faucet to a faulty wall switch to an overflowing washing machine or refrigerator that conks out, all these appliance breakdowns mean trouble for you. You experience delays and frustration, and you must call a repair service for help, adding even more to your stress. You naturally worry about what it is all going to cost you in the end. When something goes wrong with your central air conditioning, your stress can go through the roof. A mechanical failure with the AC immediately brings big dollar signs to your eyes as you remember how much it cost to buy your system. There are things you can do to help alleviate your worries about the cost of air condition repair in San Gabriel, including choosing a quality repair service to work with.
Avoiding a Costly Repair with Maintenance
One way you can help ward off costly repairs is to make sure that your system is cleaned and maintained correctly. Regular maintenance is crucial to keeping your AC system working well. Maintenance helps to clean out any clogs, keep filters clean, make sure wiring and connections are correct, and prevents dirt and debris from blocking exhaust fans. Letting maintenance go is a sure way to find trouble since a system not cleaned well is going to create conditions where parts must work harder and will wear faster. What might have been an affordable expense with maintenance can quickly become one that carries a high price tag.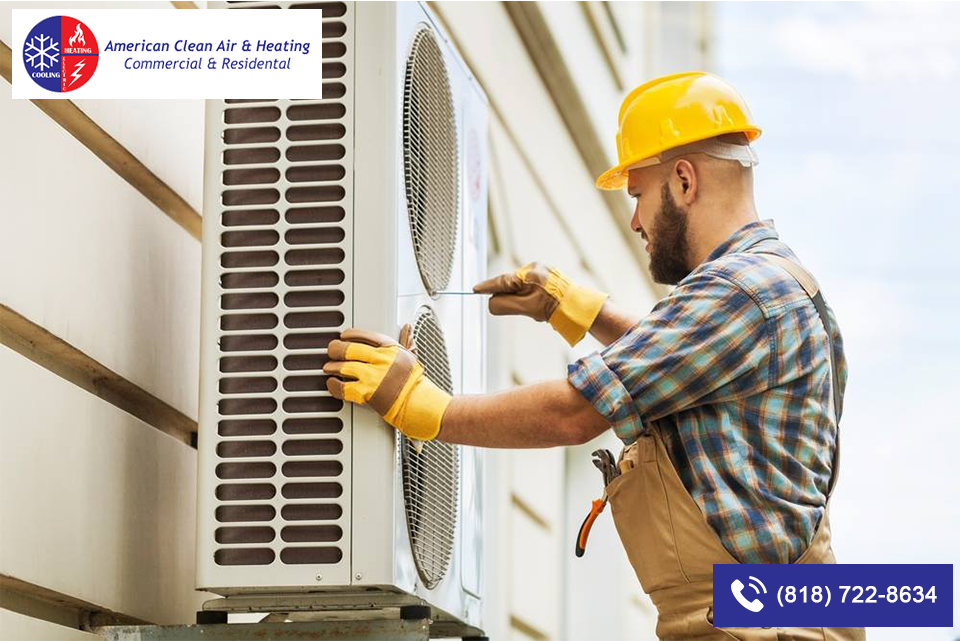 Calling a Repair Service
You can help keep down the cost of air condition repair in San Gabriel by using a repair service you can count on and trust. Here at American Clean Air and Heating, we are a fully licensed and insured repair service that can assist you with any of your AC needs. Whether your repair job is large or small, if you need maintenance or cleaning, we can be there to assist you. Our trained and experienced technicians can work on all brands of systems, and we offer highly competitive rates and a free estimate for any work you need.
We Can be Your Repair Company
When you need quality affordable air condition repair in San Gabriel, do not hesitate to call us at American Clean Air and Heating. You can find out more about the services, repairs, and installations we can perform for you by visiting our website. If you need to schedule a service call, just phone us at 818-722-8634 and a member of our team will be glad to assist you. Alternatively, if you prefer to send us a message or would like us to send you more information or to answer any questions you may have, please use our online contact form and a member of our staff will get back to you. We will make sure we get your AC up and running again without overcharging you for the work.